The Crafter's Corner from Scarborough Seashells!
Posted by Tara | E-Mail The Author
Hi readers and a HUGE thanks to Chris from Simple Treasures Collage for the invite to post on this awesome blog! :) Our eBay store
Scarborough Seashells
has all kinds of beautiful beach and ocean accents for your home and you! One of my favorite things is our new
Crafter's Corner Page
. This is the place for people who love making things from shells to strut their stuff! We will post new crafting ideas each month with "How To" instructions when available. We welcome our customers to submit their projects to us and when your submission is featured, you will receive $5.00 towards any future purchases at
Scarborough Seashells
!
This month's featured craft is a grapevine wreath covered in
Sea Life
and
Seashells.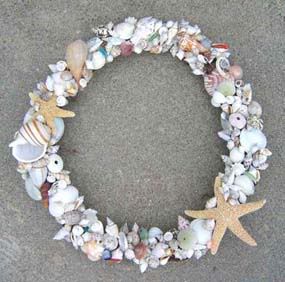 This is a time consuming project but so worth the final result! The bare bones of this project can be done on a modest budget. Most of the shells used are "filler" shells which can be bought in bulk, either by type or in mixed bags. Check out our
Bulk Crafting Shells
.
The base of this wreath starts with a ready made
grapevine wreath
. The only tools you will need are a glue gun and glue sticks (lots of glue sticks!) which you can get at any crafting store or super store like Walmart or Target.
Once you have your base, you want to start out with the largest shells first. On our wreath, we have used a
Tonna Sulcosa
, a
Ficus Communis Common Fig Shell
, 2
Sugar Starfish
and several species of
Scallop & Clam Shells
. The basic idea is to lay these out in even spaces around the wreath and build from there.
Next you want to add your filler shells. This one has a few varieties but the main shells are
Brown & White Chulas
,
Small Turbo Shells
and a bag of
Mixed Indian Ocean Shells
. We have layered the shells 2 and 3 thick so that none of the wreath is visible from the front side.
The final step is to add your special finishing touches. You could add a ribbon or raffia to make a bow or simply place a few more pretty sea treasures around it as the crowning touch. We have used
Teal & Green Sea Glass
and
Pink & Green Sea Urchins
.
Sea Horses
or
Sand Dollars
would also be lovely additions!
This makes a welcoming statement to any home in the summertime or a wonderful gift for a beach lover! Happy Crafting!