A Purse Like No Other- Recycled Jeans Art Purse
Posted by Maggie | E-Mail The Author
I have for some time now been making purses from old blue jeans, but now I have added a twist: One of a kind Designs by Jaime. Jaime is an up and coming young artist, and she has worked wonders on some jeans I sent her- the colors she uses and the shading she achieves are beautiful. I wish my photography could do them justice.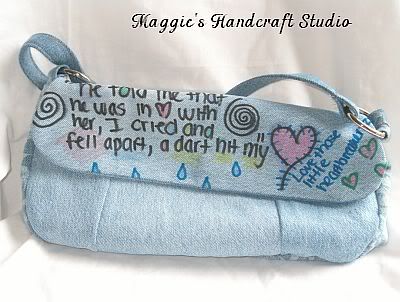 These are some pictures of the
first purse in the series
, currently for auction in
my Ebay store
. No two designs are the same,
check back
for future designs in the series.