The Amazing Almighty Conch Shell Part III
Posted by Tara | E-Mail The Author
Okay folks, for the last installment of my series of Conch posts, I've gathered up some delicious carribean recipes that are sure to please at your next dinner party!
Conch Fritters with Mango Chile Dipping Sauce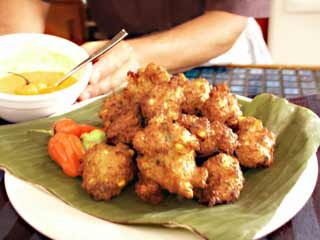 Conch Fritters
2 lb Conch -- ground
1 tsp Black pepper
1 Green pepper -- chopped
1 tsp Baking powder
1 med Onion -- chopped
3 oz Tomato paste
2 tsp Salt
3 c Self-rising flour
2 TSP Hot Sauce
Mix the ground conch with green pepper, onion, salt, black pepper and baking powder. Stir in the tomato paste, hot sauce and flour. Shape into balls and spoon into hot oil. Fry until golden brown and drain on brown paper. Serve warm with dipping sauce.
Mango Chile Dipping Sauce
cup puréed mango (about 2 mangoes)
1/4 cup freshly squeezed lime juice
2 teaspoons minced jalapeño pepper
1/4 cup chopped fresh cilantro
Combine all ingredients in a small bowl, and mix well. Serve Chilled
Yields: 1 1/2 cup
And to round out this spicy meal how about a Margarita?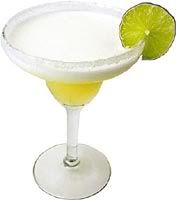 Jose Cuervo's Billionaire's Margarita

1 oz Reserva da la Familia
1/2 oz Grand Marnier Cuvee du Centenaire
2 oz freshly squeezed lime juice
1 oz simple syrup*
Ice
Lime Wedge
Large Grain Kosher Salt
Combine Tequila, Grand Marnier, simply syrup and 1 oz. lime juice in a tall mixing glass, and mix well. Tip your serving glass upside down and dip rim in reserved ounce of lime juice then dip the rim into the salt. Add ice to the glass, pour in the mix and garnish with lime wedge. Viva Cuervo!
*simple syrup is little more then a mixture of sugar and water.
Bring the water to a boil, add sugar to the water and dissolve. Once the sugar is fully dissolved, remove from heat and allow to cool.
The ratio of sugar to water can be left to personal preference, traditionally it is one part water to two parts sugar.
"And how do I serve up these tasty treats?" you might ask. Well! How about stopping by
My Mercado Mexican Imports
They sell beautiful handblown
Margarita Glasses and Pitchers
and also
Beautiful Mexican Pottery Serving Dishes!
Enjoy!