Posted by dfrazier18 | E-Mail The Author
Thank you,
Simple Treasures Collage
, for the invitation to post to the Deals On eBay blog. I'm brand new to blogging (this will be my very first post) and delighted to be here.

I've been on eBay for almost 6 years (on other "venues" too) under the user ID dfrazier18. I carry
candle accessories
(toppers, tealight & votive holders, wax warmers) ,
table linens
,
children's bedding
,
decorative garden flags
,
McDonald's Happy Meal Toys
, and much more in my eBay Store,
Frazier's Finds
.

I'm a candle-holic and passionate about candle accessories. With more than 200 different styles listed, I have the biggest selection of candle toppers available in any eBay Store.
I carry traditional (decorative only) as well as stay-ons (cappers) that can be left on top while the candle burns to help your candle burn better and cleaner, including licensed designs featuring the artwork of Debbie Mumm, Susan Winget, Miss Heather Hykes (Plum Pudding), and Fitz and Floyd's Charming Tails. I also have a variety of matching topper/base and stay-on topper/snuffer sets for sale.

I carry toppers made by Our America, Lang Candles, and Old Virginia Candle Company. They fit most standard 3" jar candles (like Yankee Candle, Old Virginia Candle, Root Candle, Bridgewater Candle, and Home Interiors Contempo and Ginger Jars). But did you know that you can use candle toppers to decorate more than just candles?

The traditional toppers made by Our America (the ones with a solid bottom) will also fit a wide-mouth canning jar that you fill with goodies for a one-of-a-kind decoration with a personal touch. I filled this quart-size wide-mouth topper with layers of assorted dried beans and added "Western Topper" in this example: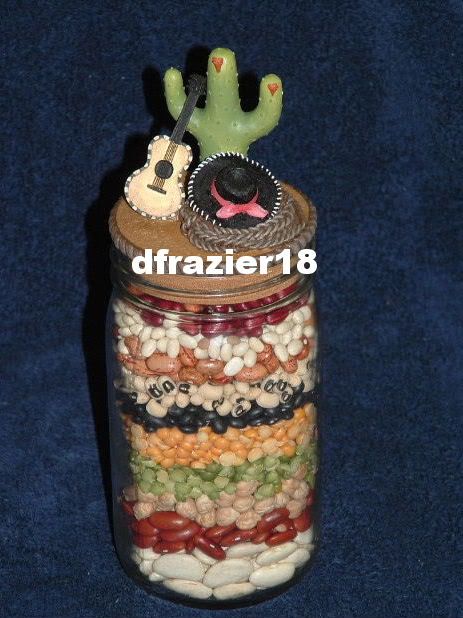 Foil-wrapped chocolate kisses, sour ball candies, golf tees, and sewing notions are all good filling choices. Placing a topper on a canning jar will not create a vacuum seal so please don't use perishables as your filling.
There are lots more ideas for fillings and coordinating toppers listed on my eBay About Me
page. Come in and take a look.